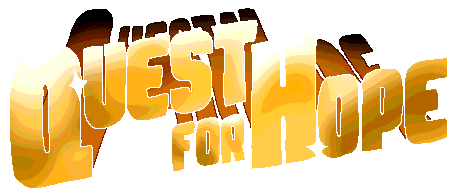 MEET THE CONTESTANTS
The super special 5-year anniversary of QFH deserves super special rules! In Season 5 we double the contestants, double the drama, double the fun!
Birdie Bell
Robin
Pebbles
Scout
Cherish
Kim
Lovell
Jana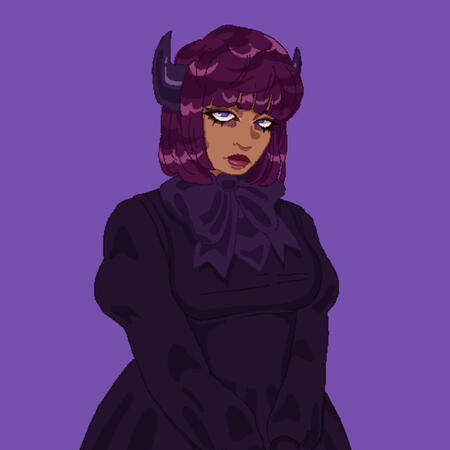 Mister. J. Roman
Lead Manager

Quest for Hope is an original concept created by @mimegrimeThis interactive is based off of a DND campaign designed by @mimegrimeThis interactive and all artistic elements within are created and designed by @y3llowradish
The Host, Birdie Bell, Jana, Pebbles, Lovell, Mr. Green, Mr. Roman, and Paris are performed by and belong to @mimegrimeCherish is designed, performed by, and belongs to @y3llowradishScout is designed, performed by, and belongs to @nukossRobin is designed, performed by, and belongs @witchylassKim is performed by and belongs to ------. She is designed by @y3llowradish and ------
Host: They say life is moments. Moments that challenge, moments that change, moments that prove who we are. Yet, it seems often far too few of us ever get the chance at such moments. All we need is a chance to lift us from a mundane existence, to grasp at the grapevine of luxury, the throne of power, the threat of thrills… A rare thing it is, the chance to seize our truest desire.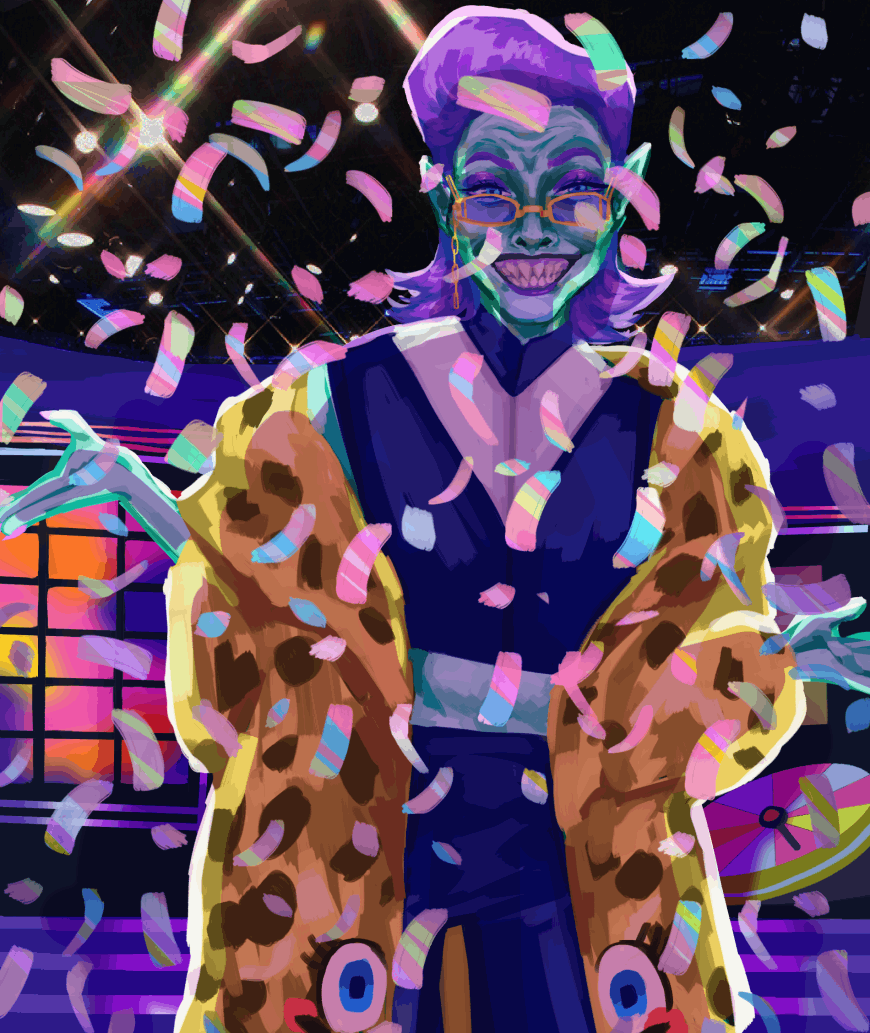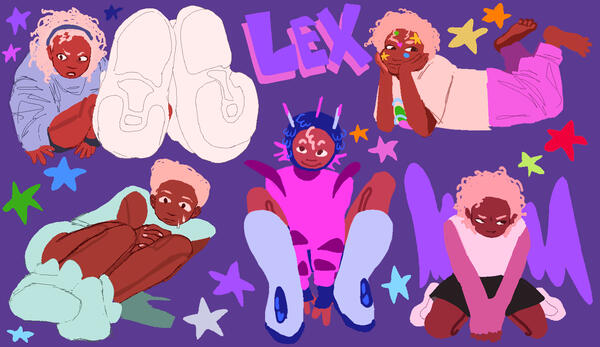 Now, for all those cast in the dark, let me bring you to the light. Quest for Hope is the one and only inter-dimensional TV show ever to grace yours or any screen! Every eight years, four lucky contestants are chosen from thousands upon thousands of entries to compete for a chance to win a prize only limited by the dreamer's imagination.
In seasons past we've seen the light of humanity shine through angels picked from every dimension and echelon of Paradigm. On the same field they've mashed, and bashed, and fought their way to the golden throne. We've lost mind, flesh, even tongue over the course of our program, and gained bruises, riches, and the satisfaction of a game well played...yet there can only be one winner.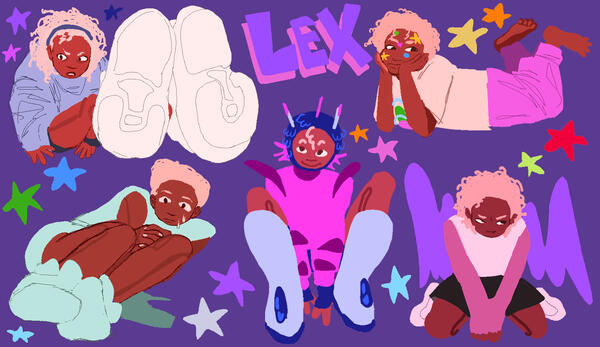 But, before we begin our game...let's meet the lovely contestants of Quest for Hope: Season Five!
...Oh? What's that? Oh my dear audience you didn't think I forgot, surely!Yes...we're pleased to announce that this is no ordinary season of Quest for hope. Indeed, tonight we celebrate our very first anniversary, 5 seasons of Quest for Hope, 10 years of tribulation, agony, and victory! Yes, this year even our simplest guidelines may be turned on their head. A super-special anniversary requires super-special rules after all...But It would spoil the celebration if our newest angels found out about that just yet, wouldn't it?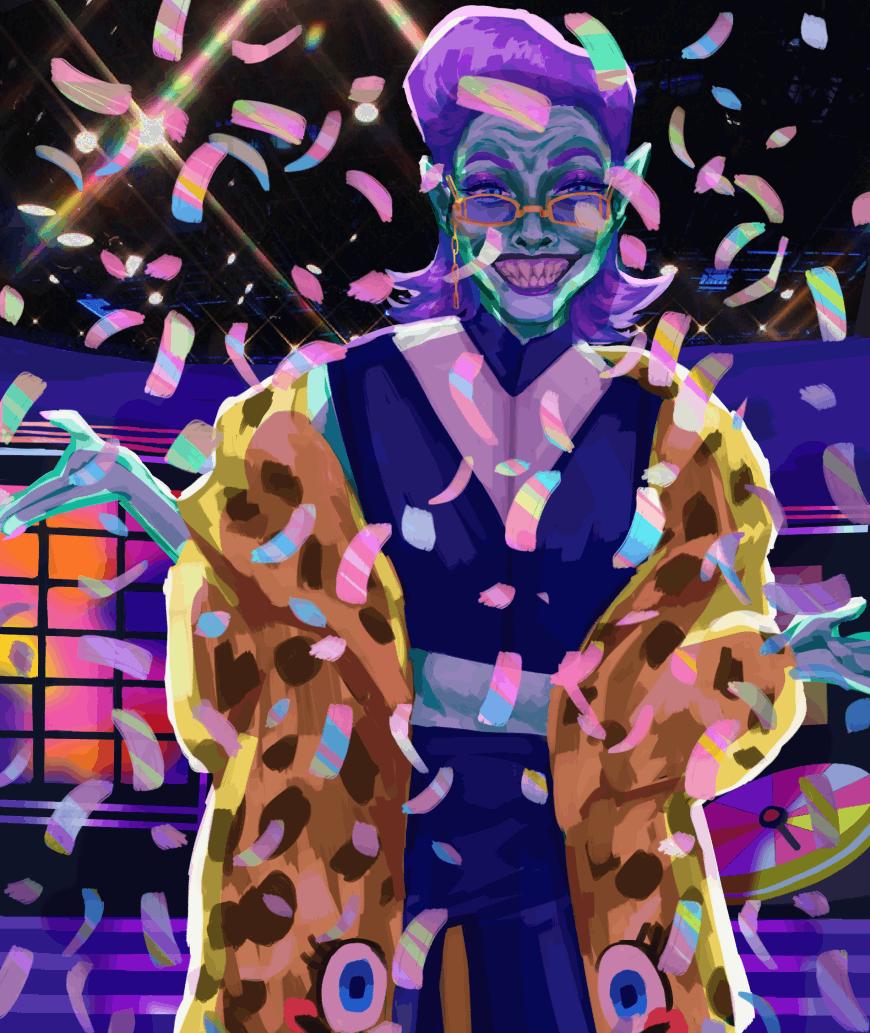 For two weeks together we will witness triumphs and pitfalls, the flesh and bone of what holds us back: stripped away to obtain the glory of victory. Ladies and Gentlemen,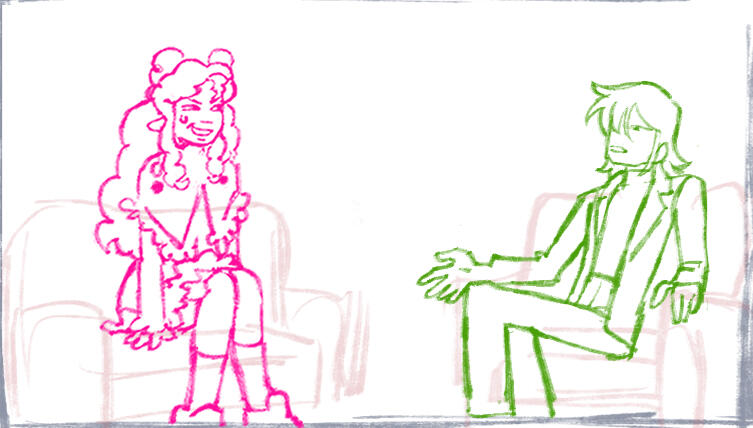 PB: Wow, that's a lot of cameras.
G: Sure is. Go ahead and introduce yourself to all your friends back home.
PB: Hi, uh, friends at home.
G: Yes, waving at the camera, very sweet. Go on.
PB: ...Okay. Well, I'm Pebbles. I really like books and, I'm really excited to be here.
G: If you were to win this season, what prize do you seek?
PB: I've always wanted to own my very own library. I. I like books.
G: So you've said. I hope that's not your fun fact. What's one fun fact about you?
PB: ...
G: You can say it.
PB: I, uh, like books.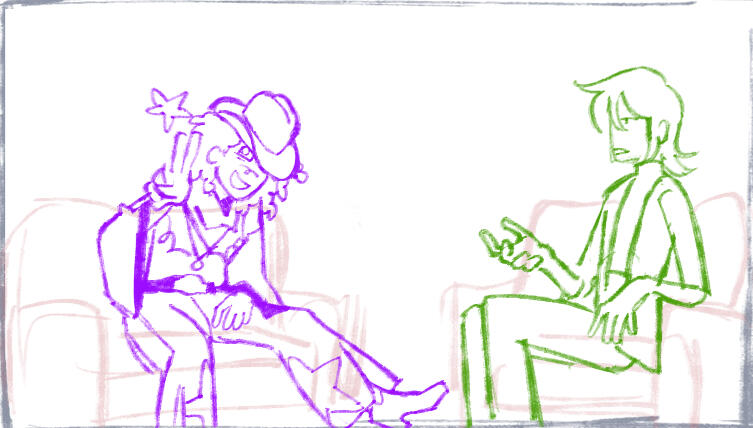 G: You've made quite a name for yourself with your TV show. For those unfamiliar, give us a quick introduction to Birdie Bell.
B: Yeehaw! What's there to say about Birdie Bell that those who matter don't already know? But for the unlucky few living under a rock, let's just say, you'll never find a star like me.
G: If you were to win this season, what prize do you seek?
B: Well, that's easy! Birdie Bell's Bullseye is already hiting sky-high ratings, but getting the show off of local and onto global is really the next step! Expand into branding, merchandising, everything you could possibly think of! There won't be a single soul who'd forget Birdie Bell.
G: Lastly, what's one fun fact about you that your fans might not know?
B: Hmmm, now that's a hard one...Ah! Now most true Bell fans know this, but purple isn't actually my favorite color, it's just what looks the best on me, Hahahaha! Shouldn't knock what's good for you!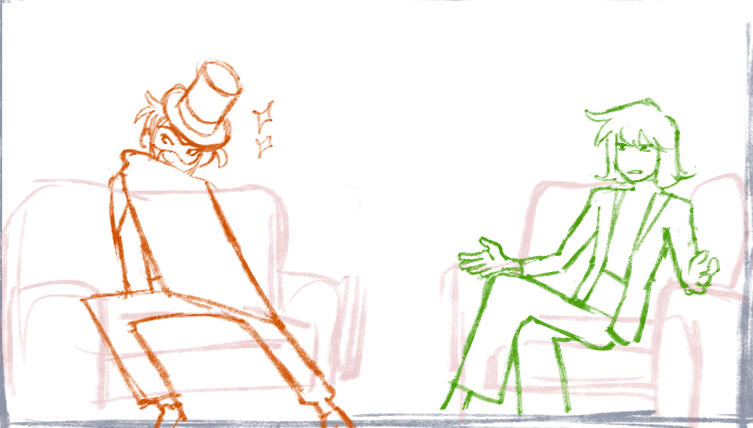 G: Now, the news has painted Jackdaw as a mysterious master thief, but what does Robin have to say about herself?
R: That sounds about right. I am quite mysterious. I'm fast, nimble, and can hold my own in a fight. An excellent phantom thief.
G: You've captured both priceless gems and media obsession, what prize could you possibly seek from the show?
R: The most high security valuables me and my buddies could ever hope of getting our hands on!
G: Lastly, what's one fun fact about you?
R: hmm...I work part-time at a coffee shop...w-wait, are you writing this down?
G: I don't answer stupid questions.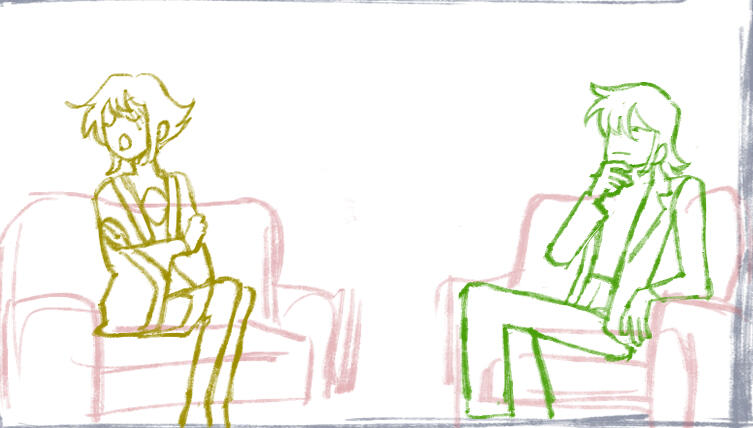 G: What a unique experience it is to greet a member of the Walter family on our program. For those unaware of yourself, please provide us with an introduction.
W: I am Lovell Walter of the Walter Family. We are RENOUNED for being a top class family with an abundance in wealth, knowledge, and...and...
G: And?
W: Well, one such as you is not privy to know such the secrets of the Walter Family.
G: What prize could one so wealthy possibly seek from the show?
W: Tch. The realms I aim to enter are above such plebian understanding. Such a question itself is subject to lackluster reasoning.
G: Lastly, what's one fun fact about you?
W: Fun is not a sin those of class indulge in.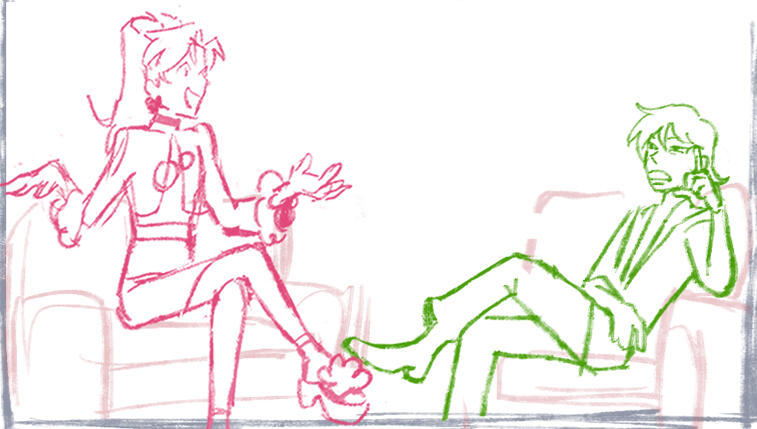 G: I'm sure many of your millions of subscribers are watching the program already, but go ahead and give the viewers a quick introduction.
C: Hi, I'm Cherish! I'm here to spread my message of preserving love and beauty in the world, and-OMG It's so exciting just, like, being here!
G: If you were to win this season, what prize do you seek?
C: I'm here to expand my platform! The greater it grows, the greater my power!...The power of love, duh.
G: I'm sure that's all very fascinating. What's a fun fact, apart from a channel plug, about you that you'd like to share?
C: A fun fact? I'm totally vlogging this! Catch the Youtube upload at "LoveCherish"! I post every Monday and Friday at 5pm!
G: You can't vlog this.
C: Like and Subscribe!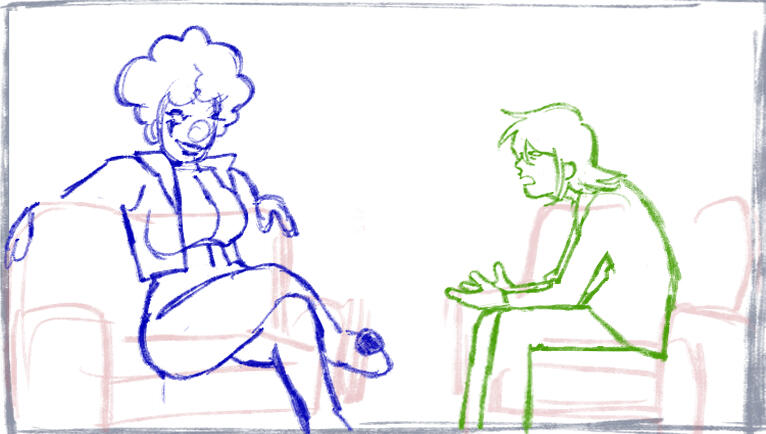 G: The life of a clown assassin must be fascinating. If you would, give us a quick introduction to who Kim is.
K: They call me Kim. That Bitch. Life of the party. What do they call you?
G: Mister Green.
K: Okay.
G: Okay. Thanks.
K: That's kind of a boring name.
G: What do you want to win.
K: I'm here for a good time.
G: Lastly, what's one fun fact about you?
K: I'm gonna show these losers how to party.
G: You're quite the mysterious character, aren't you? Go ahead and enlighten our viewers about who Scout is.
S: I'm Scout. I'm 17 and...yeah. Uh, is that good?
G: Not good at much, huh. Well, If that's all there is to Scout, what prize does he seek to claim?
S: I don't know, dude. I'm good at jumping. Whatever.
G: Avoiding the question?
S: Listen! I'm not good at talking about myself.
G: This is an interview.
S: ...You'll find out what I want when I win.
G: I see "mysterious" will be a continuous thread with you. Lastly, what's one fun fact about you?
S: I'm quite good at lock-picking.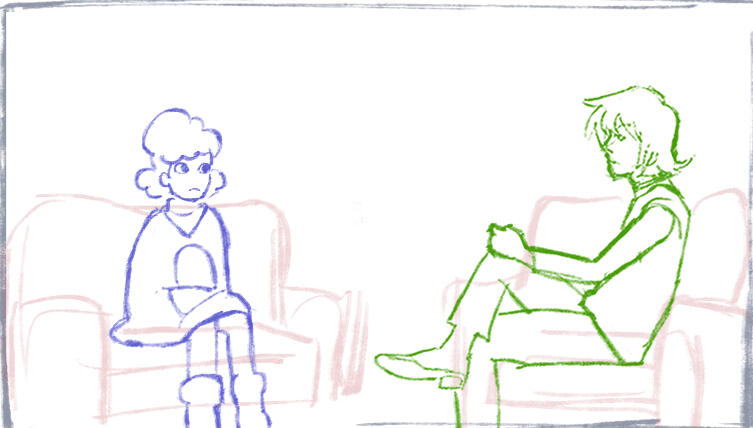 G: Quite the excited contestant I see. I can already tell you'll be a fierce competitor Miss...?
G: My name is Jana. I want to prove myself.
G: We don't often get contestants as young as yourself, what prize has brought you here?
G: I don't want a prize.
G: Of course you don't. Well then, why are you here?
G: To prove myself.
G: How could I forget. What's one fun fact about you?
J: ...
G: Anything.
J: I like pie.
Sorry! The requested content has yet to be aired. Check back soon for the latest episodes!